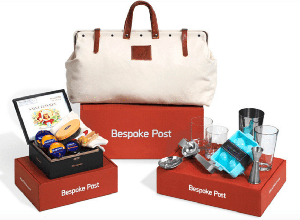 Bespoke Post Monthly Boxes
Bespoke Post is a subscription-based e-commerce store that targets men who enjoy the experience of getting new things to try each month.
Instead of selling individual products, Bespoke Post offers themed boxes of products that change monthly. The products Bespoke includes in its boxes are high-quality, sometimes unusual and often useful. Boxes are shipped for free, and there is no monthly commitment for subscribers.
Box 101 – With a little bit of art and science they use the human side to connect with quality brands, and data to make smart buying decisions.
How It Works
It's simple: BESPOKE POST releases a selection of boxes each month, and suggest one that should interest you.
You'll receive an email with your box details – what's inside, and where it's from. You've got 5 days to change colors, and sizes. Add extra goods to your box and take advantage of free shipping, or skip the box altogether. Boxes ship mid-month. Be patient, mix a Negroni, and before you know it, you'll be high-fiving the USPS guy.
Goods and guidance for the modern man from Bespoke Post is delivered monthly – plus a full shop of uniquely cool products. Free shipping, easy returns, and no commitments.
Adam Bernard is a dedicated meditator and yoga enthusiast, who believes in the power of these practices to promote physical, emotional, and spiritual wellbeing. Professionally a web developer and digital marketer with over 25 years of experience in SEO, SEM, Social Media, eCommerce, and Web Design.